Women in Black, Hamburg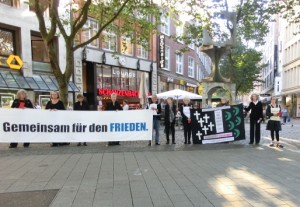 We are on the street since 1993, first against the war and violence in former Yugoslavia, then against the wars in Afghanistan, the ongoing violence in Israel and Palestine, especially in Gaza. Meanwhile, we focus mainly against military buildup and arms deals .
Vigil against war and violence on the first Wednesday of the month at the Ida – Ehre-Platz , Hamburg , 16:30 to 17:30 clock; meeting every Wednesday just before the vigil from 15.30 clock in the hall passage .
Web: http://hamburgo.womeninblack.org
Kontakt: friedenfis@web.de