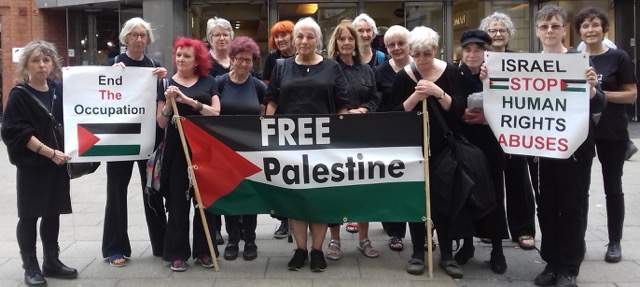 Our first vigil: 6 August 2019 https://www.facebook.com/events/dortmund-square-leeds-ls2-8-united-kingdom/women-in-black-vigil/703761423396836/
Since 1988, women in Jerusalem have held weekly vigils with the slogan "End the Occupation".
This will be the first of regular peaceful vigils in Leeds to protest at Israel's illegal occupation of Palestine. We will stand in silence, dressed in black, with a large banner "Free Palestine" and leaflets to inform the public.
Any women who would like to come along on the day dressed in black would be very welcome.
We dress in black to denote mourning for lost Palestinian lives.
When: monthly vigils, the first Tuesday of each month 1.30pm -2.30 pm
Where: Dortmund Square, Leeds, LS2 8, United Kingdom
Contact: Devorah Marks – email devorah.marks@hotmail.co.uk – phone 0113 2888862