Women in Black…
…is a world-wide network of women committed to peace with justice and actively opposed to injustice, war, militarism and other forms of violence. Visit Vigils around the World to find vigils in your country. To add your vigil contact wibinfo@gn.apc.org Find out more here…..
A History of Women in Black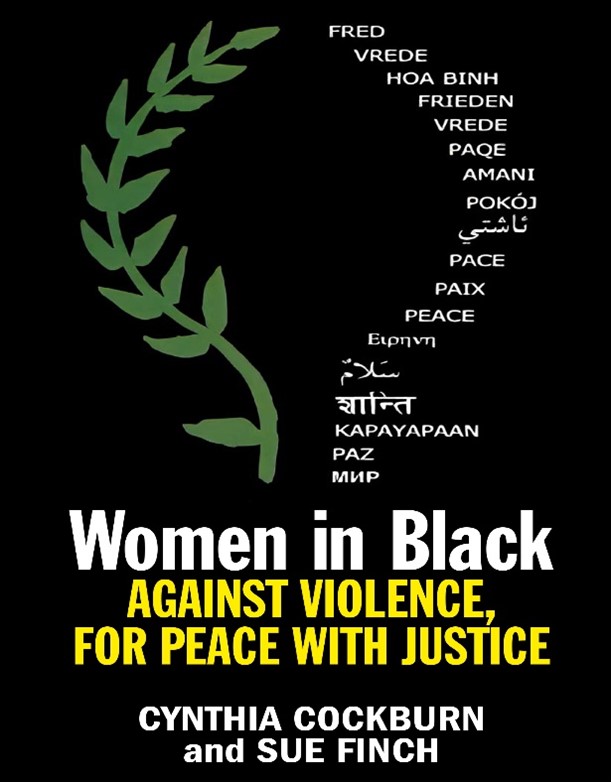 This history of Women in Black, begun by Cynthia Cockburn in 2018 and completed, after her death in 2019, by Sue Finch, is now available to order online through Amazon (details below).
Women in Black starts with the origins of the network in Israel during the second intifada and concludes with the war in Armenia, and responses to that war by WiB Armenia, one of the the most recently established Women in Black groups around the world.
Inbetween, Cynthia and Sue write of Women in Black's activities across Europe from the UK to Serbia; in South America, from Argentina to Uruguay; and including Women in Black's international gatherings from India to South Africa. It shows the richness and diversity of women's feminist non violent responses to war, militarism and violence against women, reflecting concerns as diverse as opposition to gun crime or nuclear weapons, poverty and exclusion and the need for a genuine security that reflects and upholds the rights of women and girls.

The book was researched and written in consultation with Women in Black groups and vigils around the world, and most of those who contributed have already been sent a copy but if you have not received your copy please contact suewildfinch@gmail.com. Thanks to a grant from the Maypole Fund, copies of the book can also be sent to to WiB groups who wouldn't otherwise be able to afford them. If your group would like a subsidised copy please contact suewildfinch@gmail.com.
The book – currently only published in English – can be now be ordered for around £15.99 (approximately €18.10 or $19.77 plus postage) via Amazon.uk – search for Cynthia Cockburn, "Women in Black – Against Violence. For Peace with justice".
Also available from Merlin Press www.merlinpress.co.uk.
Latest from the network.