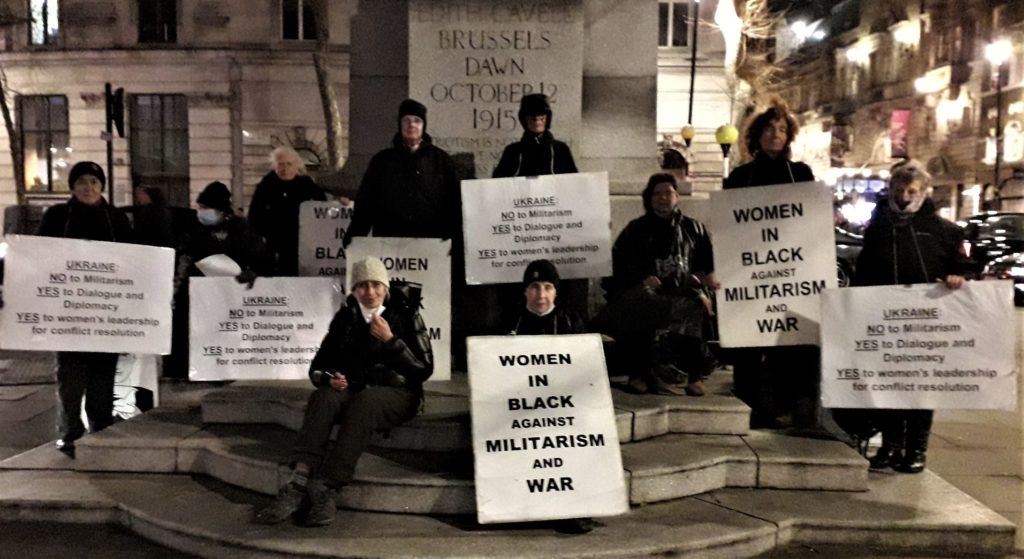 Women in Black…
…is a world-wide network of women committed to peace with justice and actively opposed to injustice, war, militarism and other forms of violence. Read more…..
Stop the war in Ukraine!
Women in Black are protesting around the world, from London (photo above) to Serbia (text below)
Anti-war protest
On the occasion of the aggression of the Russian Federation against the Republic of Ukraine, Women in Black organize a protest in mourning and silence "Stop the war in Ukraine!" on Saturday, February 26, 2022, at 12 o'clock in Knez Mihailova Street, in front of the Russian Tsar restaurant. We are organizing this protest as part of an international peace campaign launched by the Network of Women in Black from Italy.
Russia's recognition of the republics of Donetsk and Luhansk has led to great tensions at European and world level, and eventually escalated into an open and brutal Russian invasion of Ukraine.
In 2014, the Russian Federation attacked Ukraine and annexed Crimea. In 2022, the Russian Federation recognized Donetsk and Luhansk – areas that seceded from Ukraine in 2014.
The attacks on Ukraine, carried out by the Russian Federation from land, sea and air, are a manifestation of the militaristic imperial goals of the Russian regime led by the President of the Russian Federation Vladimir Putin:
On this occasion we demand:
– Urgent cessation of all military operations and the withdrawal of all Russian troops from the territory of the independent state of Ukraine, as well as from the occupied territories.
– Introduction of new and expansion of existing sanctions imposed by the European Union against the Russian Federation.
– An investigation by the International Criminal Court of crimes against civilians committed by Russian military formations by bombing not only military, but primarily civilian facilities in Kiev, Kharkov, Odessa and other Ukrainian cities.
– That the state of Serbia adhere to the legal ban on sending volunteers from Serbia to the theater of war in Ukraine.
– We express our solidarity with the peace movement both in the attacked Ukraine and in the Russian Federation.
Women in Black
In Belgrade, February 25, 2022
Supporting Women in Black Armenia
Women in Black are very worried about our sisters in Armenia, who – yet again- are living through another period of armed conflict. Just after midnight on 13 September 2022, Azerbaijan launched a major attack against Armenia and began shelling towns and villages in south Armenia, using high-calibre firearms, artillery and drones.
By the end of the first day it's estimated that 49 people had been killed, and others injured including two women, taken to hospital. Women in Black Armenia write, "This is very frustrating to go through this again and again. Hope this will end soon, although it never ended before".
By 17 September, Azerbaijan was attacking cities across three region of Armenia, including civilian infrastructures. More than 135 Armenian civilians have been killed including 71 living in Azerbaijan. Two women soldiers have been tortured and mutilated and one killed.
"The situation here it's really frustrating. I have never felt this unsafe and unprotected. The situation here is very tense. Hundreds of people are died and everything still continues. The reaction of the west is very frustrating and makes us angry. They fail to call the aggressor, they fail to call it invasion of Armenia, they fail to call it a war against us. Because gas and oil is more important, power and money are the main priority and we are not white enough, don't have blue eyes and don't watch Netflix. Nobody will probably sanction Azerbaijan and do something to really stop this war".
Women in Black internationally are trying to support Women in Black Armenia. More information will be added soon. For more news, see Armenia – Just another Women In Black Network site
Latest from the network