Frederick
Time and place: Vigil schedule varies. Contact us at:
wibfrederick@gmail.com for more information.
About: WIB Frederick was founded in November 2002. We sponsor and participate in activities that further our mission to engender dialogue, understanding, peace, restorative justice and nonviolence. We have in various ways called attention to violence against women, the cost of war, and commemoration of lives lost to violence and war. We network and participate in actions with WIB nationally and internationally, and work in coalition with other local, national and international peace and justice groups.
Email: wibfrederick@gmail.com
join our mailing list: send your request to join to wibfrederick@gmail.com
Baltimore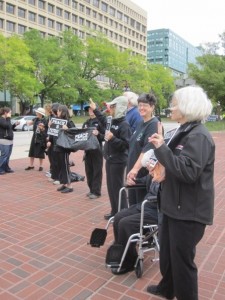 Time and place: TWO LOCATIONS from Noon to 1pm: FIRST Location * McKeldin Square, Inner Harbor at Light & Pratt Streets –Stands every Friday. SECOND Location *830 West 40th Street – Roland Park Place Peace Group (now standing Every Friday come rain or shine!) across from the Rotunda.
About: We welcome all women and men who support positions of nonviolence and who seek peace through mutual understanding and constructive dialogue. In addition, to the vigils, we welcome everyone to the annual Peace Path on September 11th, as well as the many other opportunities to parade or have a table exhibit in the Baltimore area. You're also invited to add you talents to the many administrative tasks of maintaining the web site, an active email network and add our link to your social networking sites. Contact us for WIB peace stickers, PEACE IS PATRIOTIC yard signs and Peace Hon or B-more for Peace bumper stickers.
Email: wibbaltimore@peacepath911.org
join mailing list: wibbaltimore@peacepath911.org
Vigil homepage:  [to be updated soon]