Kitsap County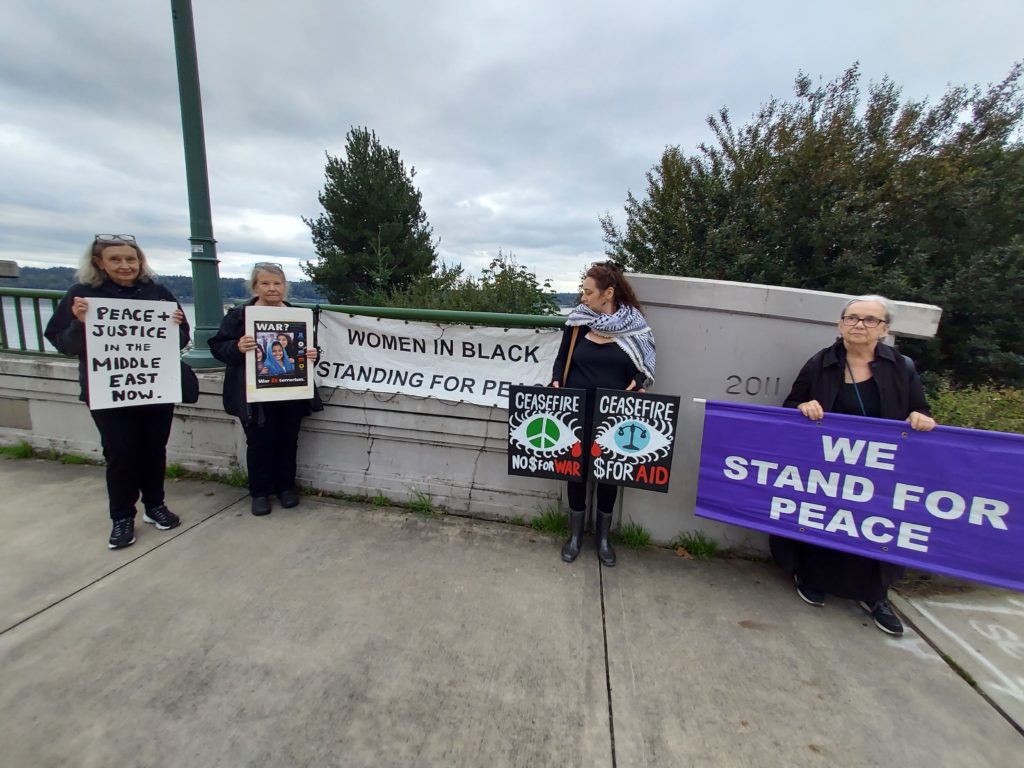 Kitsap Women in Black stand in silent vigil for peace in the Middle East
Thursdays 4:30-5:50pm, at the west end of the Manette Bridge in Bremerton, WA, USA.
There may be flyers. Men are welcome
https://www.facebook.com/KitsapWIB
Contact: kitsapwib23@gmail.com
Seattle
Time and place: 12.00-1.00 on Wednesdays after a homeless person is found dead outside, or dies by violence, in King County. Email wheelorg@yahoo.com to join list to be notified of vigils or call number below.
About: WHEEL (Women's Housing, Equality and Enhancement League, a grass roots organizing effort of homeless/formerly homeless women), founded Women in Black Vigils, for homeless people who died in King County. All are welcome to join the vigils – women or men – homeless or housed.
Phone: (206) 956-0334
Email: wheelorg@yahoo.com
Facebook: https://www.facebook.com/Homeless-Remembrance-Project-184372257014/
Indianola
Talk to Women in Black contact in the rural area of Indianola in Kitsap County, a couple of hours from Seattle.
Email: Janice gutman <janicegutman@gmail.com>
to be confirmed
Gig-Harbor
Time and place: Every Friday from 5 PM – 6 PM at SW corner of Olympic Drive and Point Fosdick Drive NW
About: Women and men are welcome to stand with us. We stand for nonviolence, whether in war, in our community, or in the home. We hold banners saying, "Women in Black" and "Peace, Justice, and Mercy" and offer information about our mission only if asked. The vigil is not silent, but rather is a time for community and friendship. At the end of each vigil, we gather at "Circle" and share a few short thoughts about peace.
South-Whidbey Women in Black
Snohomish-County
Olympia
Time and place: Every Friday, 5 – 6 p.m. at 4th and Water Street, near the fountain, across from Percival Landing in downtown Olympia
About: Olympia, Washington
Email: wibolympia@gmail.com
Vigil homepage: http://www.wib-oly.org
Bellevue
Time and place: every SATURDAY, Noon – 1 PM at SW corner Bellevue Way & NE 8th.
About: Bellevue, Washington
Vashon
Time and place: Every Thursday from 5 to 6 p.m at Intersection of Vashon Highwy and Beall/Bank Rds.
About: Vashon Maury Island, Washington
Email: frontlinemom@yahoo.com